IDVD: Creating a Simple Linear DVD
Using iDVD
Once you have done an export a high quality QuickTime .mov for iDVD:
Open iDVD and click on "New Project"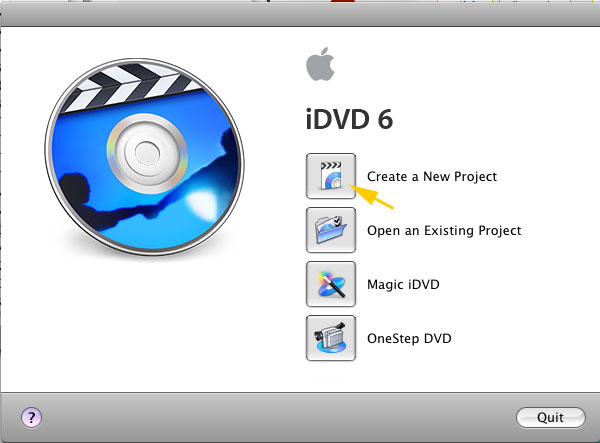 Give your iDVD project a name, and save to your external hard drive. A standard definition DV .mov will be 4:3 aspect ratio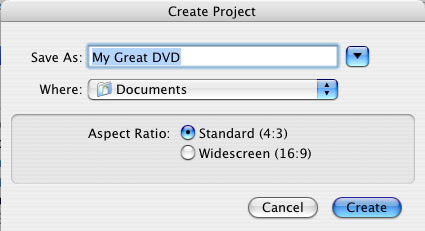 You will now see the main iDVD interface. The right triangle is to preview how the DVD will look. Double click on the menu for the menu settings dialog to appear.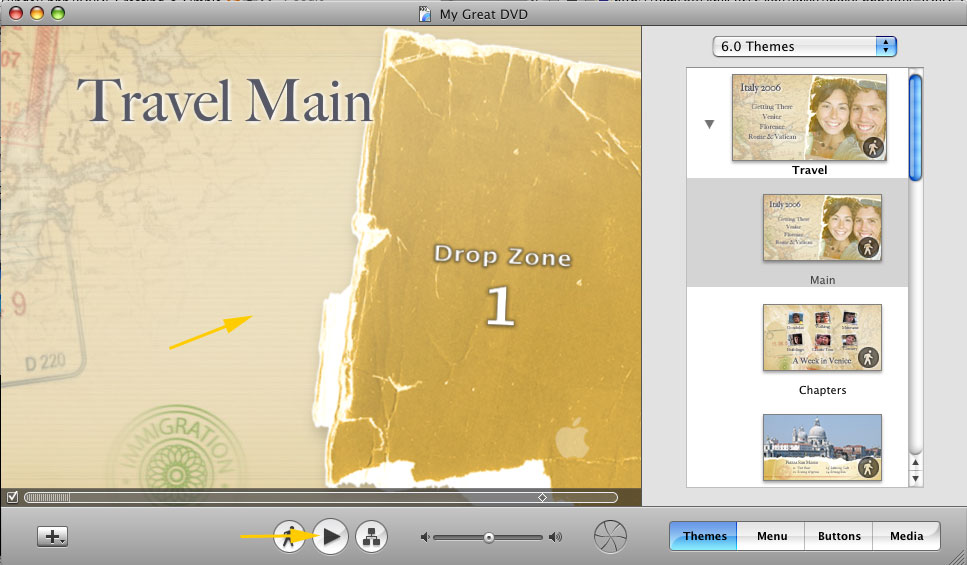 In the "Menu Info" dialog, you can insert an image in the menu dropzone(s) – first click on "Media" in the bottom right, then go to the top right and click "Photos" – you will then be able to select any photo out of iPhoto and (3) drag it into the dropzone. If your photo isn't in iPhoto, jump over to iPhoto and import it and it will then be a selection option. You could also insert a movie from your Movies folder by selecting "Movies" instead of "Photos"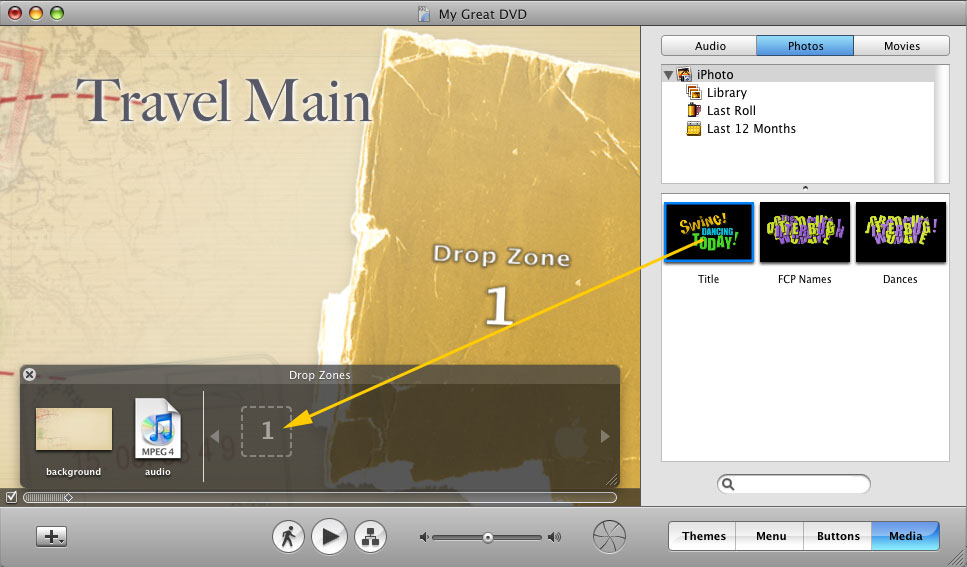 you can drag an image over the "background" and an audio file over the "audio" to change the settings. Click and drag the audio icon off the drop zone dialog if you don't want menu music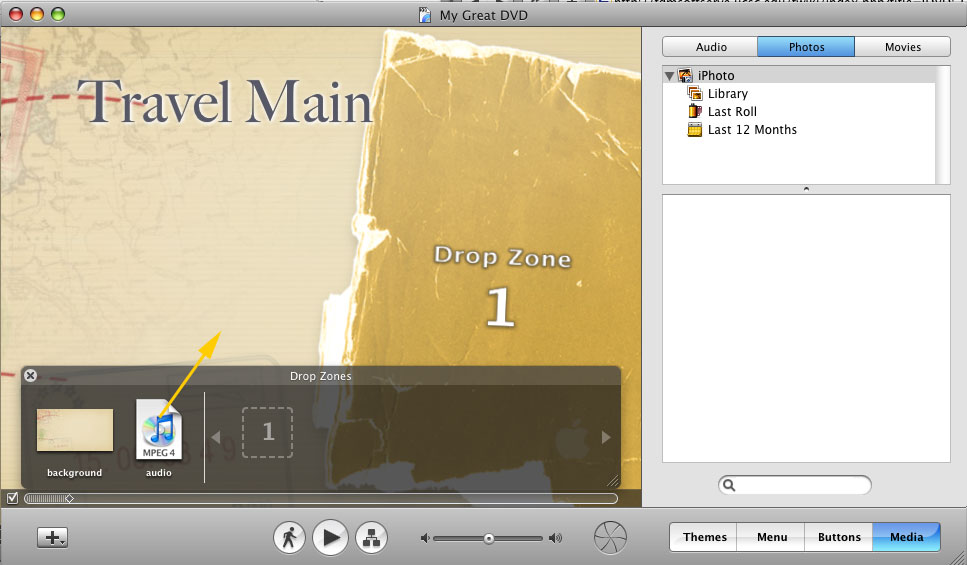 You can change the menu look by selecting "Themes" at the bottom and selecting a different theme from the right thumbnail column. You will be asked if you wish to keep or change your current aspect ratio – click on Keep.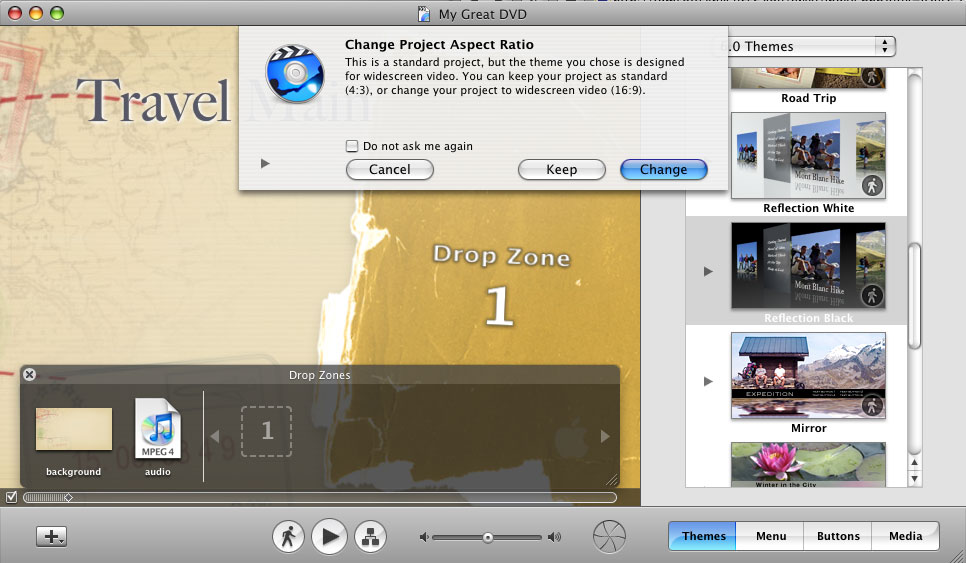 To make an actual button to your video, click on Movies in the top right, select the "Movies" folder in the right column and click- drag your video thumbnail onto the menu as shown below (be sure to place not place it in a dropzone):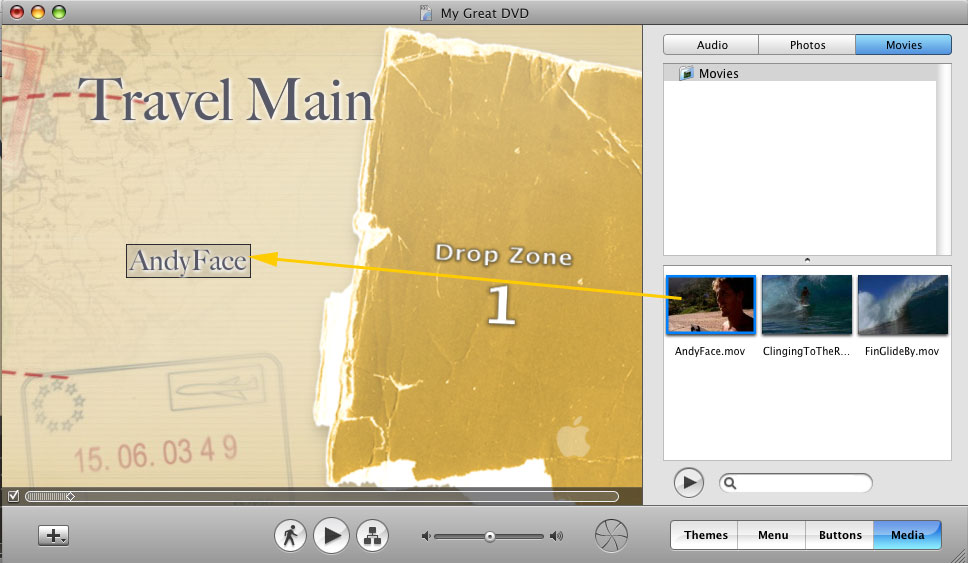 The button will have the same name as the file, but you can select and rename all the text elements in iMovie by clicking on them.
Now click on the bottom triangle to preview your movie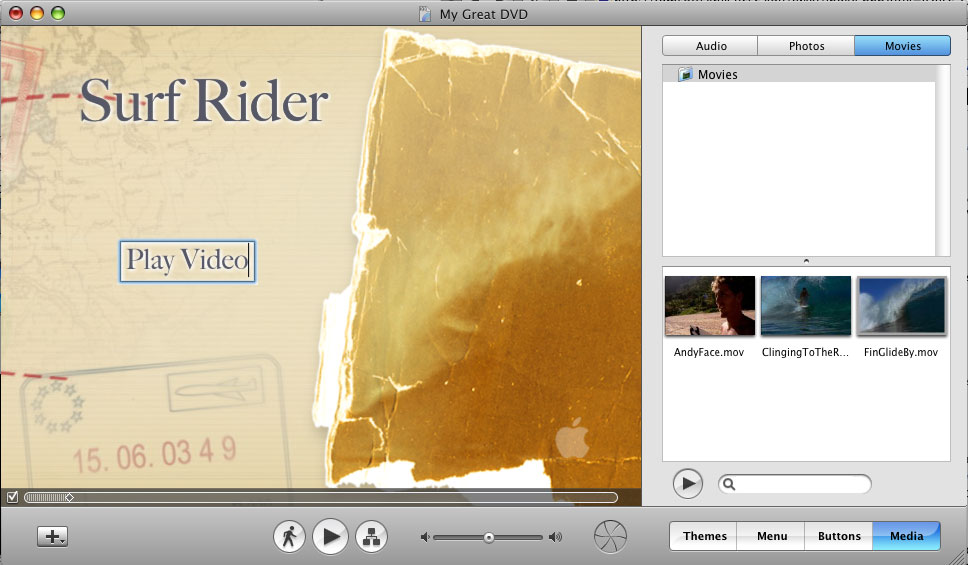 You will see a controller which you can click on and use just like a DVD remote control. Test your buttons and see if your clip plays as it should. Click on Menu to go back to the menu.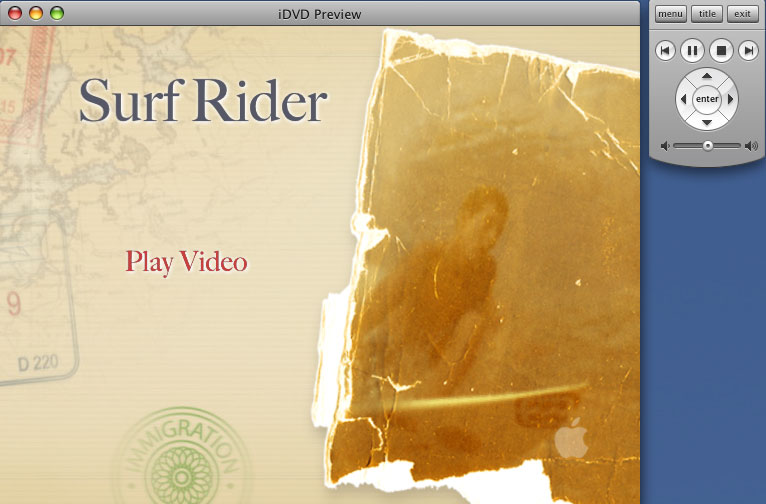 Before actually burning your DVD you'll want to check your project info to make sure the DVD will fit on a standard DVD disc (capacity 4.2 GB) Go to Project > Project info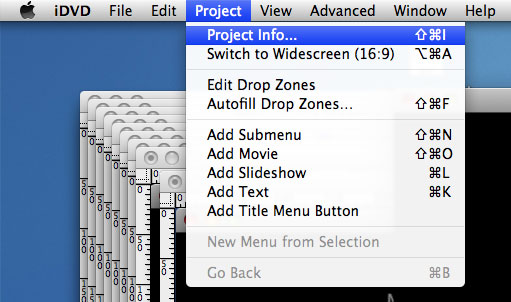 In the Project Info dialog you will see if you are reaching capacity. If the project is too large, you may get a warning – just go into project info and set encoding down to "Best Quality" which provides more compression for larger files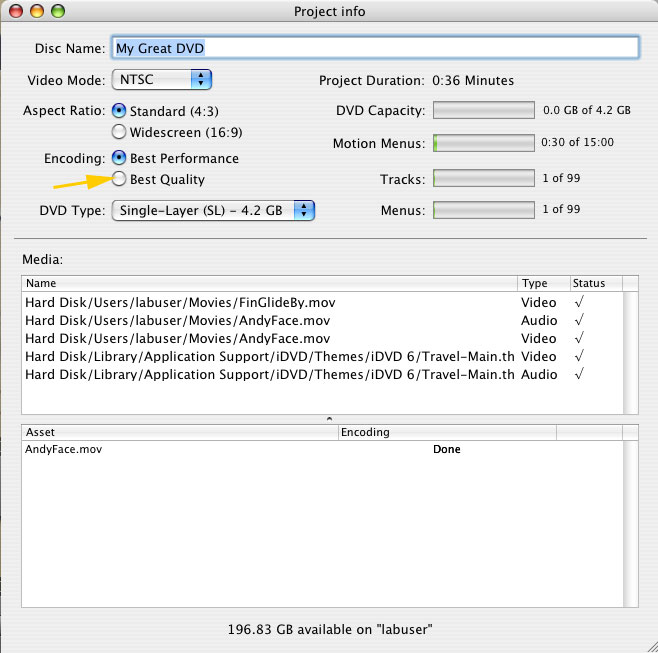 Now you are ready to burn. Go to File > Burn DVD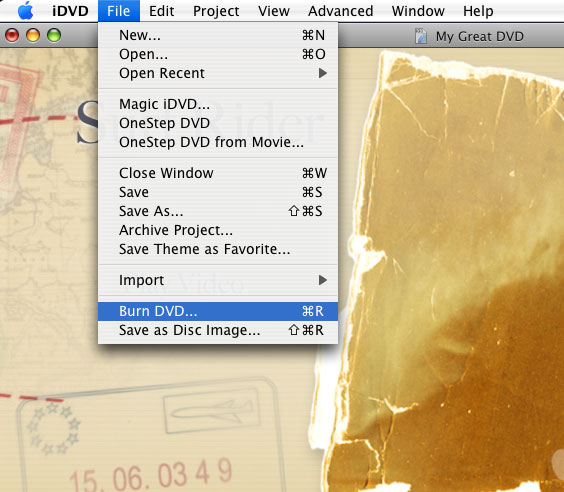 You may be prompted if there is a warning in a project. Click on DVD map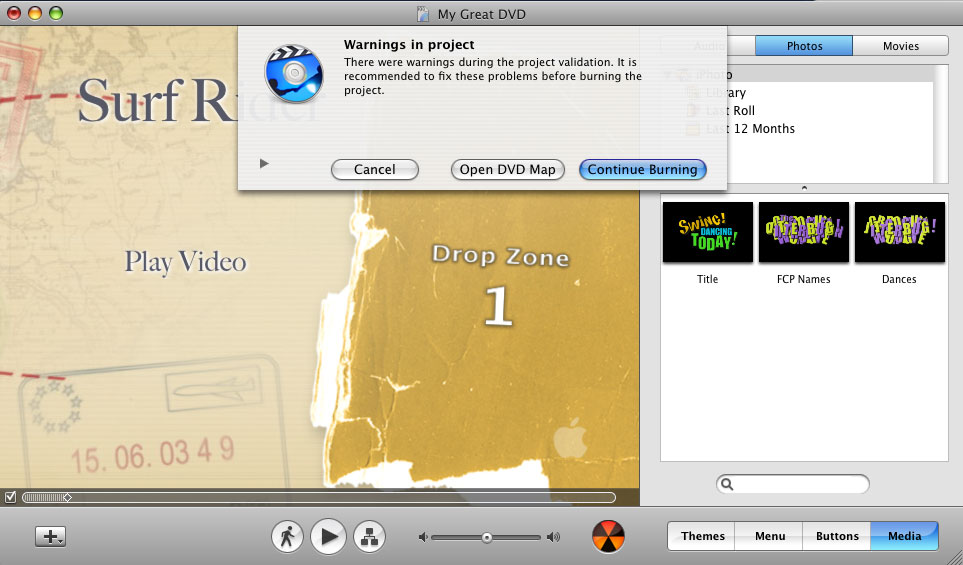 In the map, rollover any yellow alerts – here the project has some empty drop zone, but those won't impact the final burn. When done reviewing, click the bottom right "Return" button.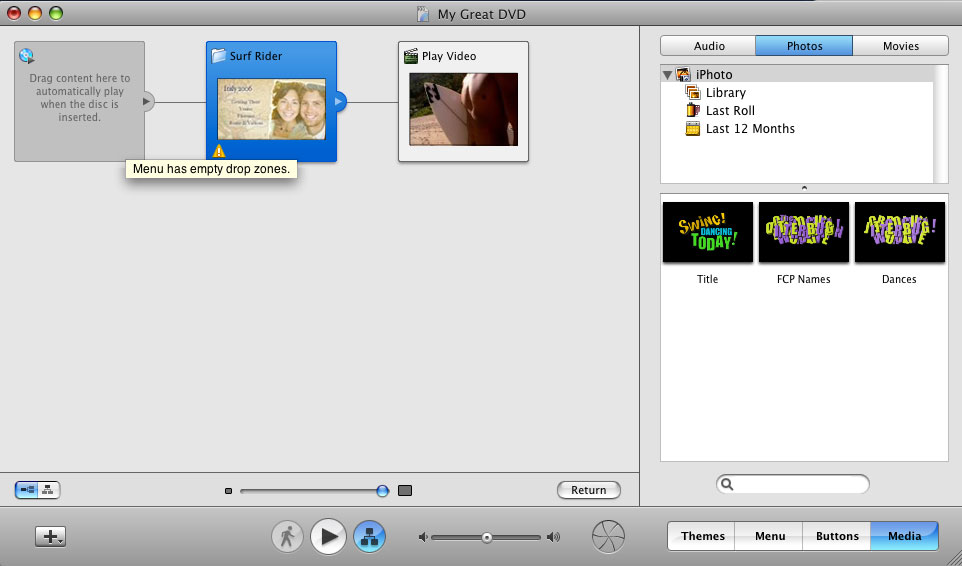 Go back to File > Burn DVD and click Continue Burning. You will now be prompted to insert a recordable disc (DVD-R, DVD+R, DVD+-RW). Be sure you have a recordable DVD, not a CD! After insertion you will see a progress animation – and once the burn is complete you will get a "success" message. You will also be prompted to insert another DVD if you want to record more than one.

It's a good strategy to test the DVD in a player, or computer before assuming it works. On our lab computers, insert the DVD and open the application DVD player which is found in the Applications folder with this icon: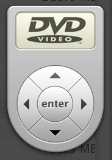 Congratulations! Your work is now published.