Media Management & Offloading Footage (Flip Camera & Flip Mino Only)
Flip Camera (Original) & Flip Mino Workflow:
Both the Original Flip Camera & Flip Mino camera record footage using an Xvid Codec (A MPEG4 compliant codec designed to be a competitor of DivX). This codec is considered a "delivery codec" intended for end user viewing, and is not ideal for video editing applications, such as Final Cut Pro. As a result, we will need to transcode these clips to a different video codec and audio sample rate, and we will do so using Apple's Compressor application. Compressor is a video conversion utility included in all recent releases of the Final Cut Studio suite.
Are you coming your Flip footage with other (HD) footage? Please read our note below.
When you plug in the Original Flip Camera or Flip Mino camera into the computer, the camera volume will mount on the desktop:
The Original Flip Camera will look like this:


The Mino will look like this:

Open the disk image and browse down two levels in the folders to find your movie clips (they will be the .AVI files). Copy these movies files to you external hard drive (or local hard drive if not working in the computer lab).
The Flip Camera will look like this:

The Mino will look like this (be sure to ignore the "Flip Video For Mac.app" file–we won't be using that program):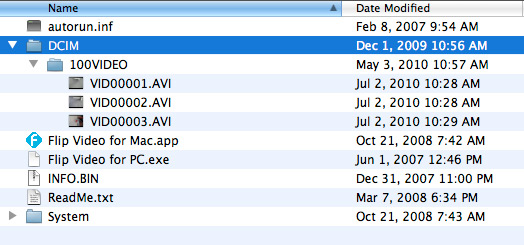 Next open the Compressor Application:


With the Compressor application now open, click on the "Add Files" button on the upper lefthand side of the main/project window. Browse to your flip camera movie files, select the ones you wish to convert, and click "Open":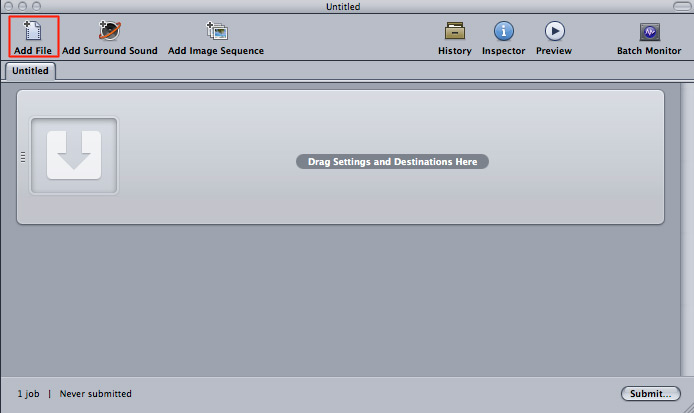 Now with your clips are added to the project queue, you will need to make a destination preset for these files. By setting a destination you are choosing where the files will be saved after they are transcoded in Compressor. Start by clicking on the "Destinations" Tab in the lower left-hand panel, and then click the plus icon, and choose "Local":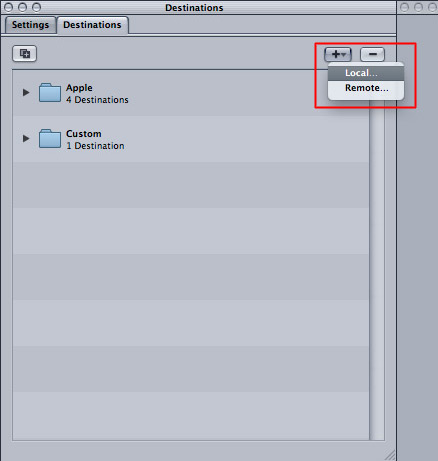 Browse to the folder you want your converted footage to be saved in, and click "Open":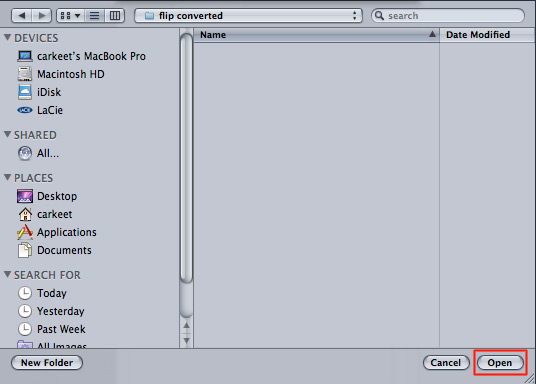 You will now need to point this new destination preset as the destination of where you would like the transcoded .AVI (Xvid) clips you added to the queue to go. Simply do this by dragging and dropping the destination setting onto the clip(s) above: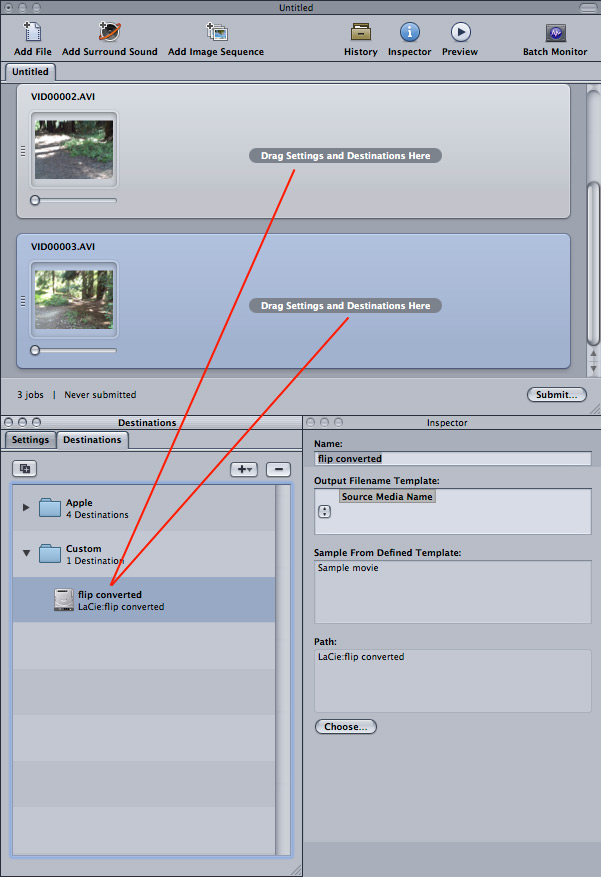 Next we will set up a custom setting preset to convert the footage to a more Final Cut Pro friendly codec of Apple ProRes 422 (LT) and more common audio sample rate for video authoring of 48khz.
First click on the settings tab on the lower lefthand window and search for ""ProRes" in the search bar: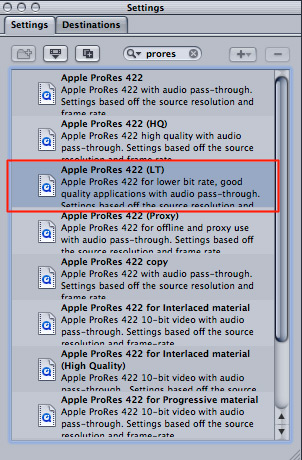 Right click (or hold down the control key and click) on the setting which says "Apple ProRes 422 (LT) and click "Duplicate". This will make a duplicate of this setting which we can then customize: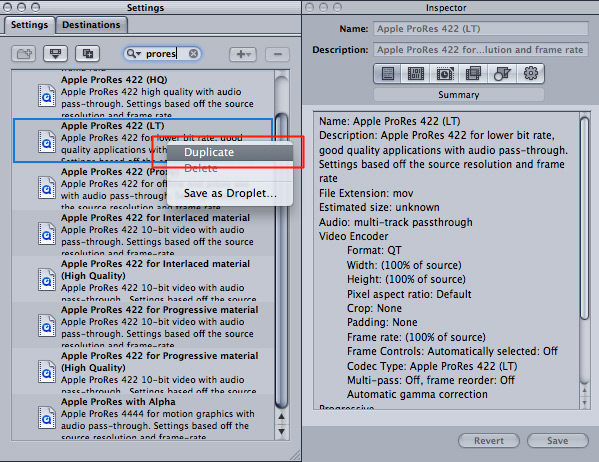 Double click on the duplicate setting you just made (it will say "Duplicate" at the end) and it will load into the Inspector window on the right hand panel. Under "Name" give it something practical; in this instance I simply added "Flip Camera Setting" to the end of the original name. Next, to the right of "Audio", click the drop down menu to choose "Enabled", and then click on "Settings":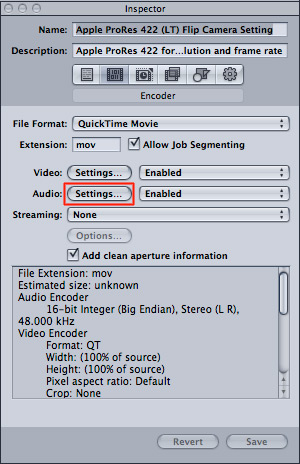 With this new audio settings window open, make sure the "Rate" is listed at 48.000 kHz and click "OK":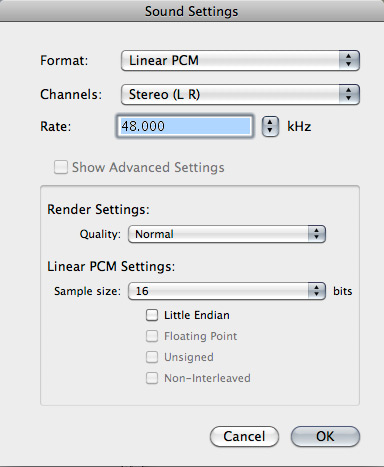 With your custom preset finished, you can now drag and drop this setting to each of the clip(s) to the left of where it lists the "destination" you added earlier. Note that you must do this for each clip: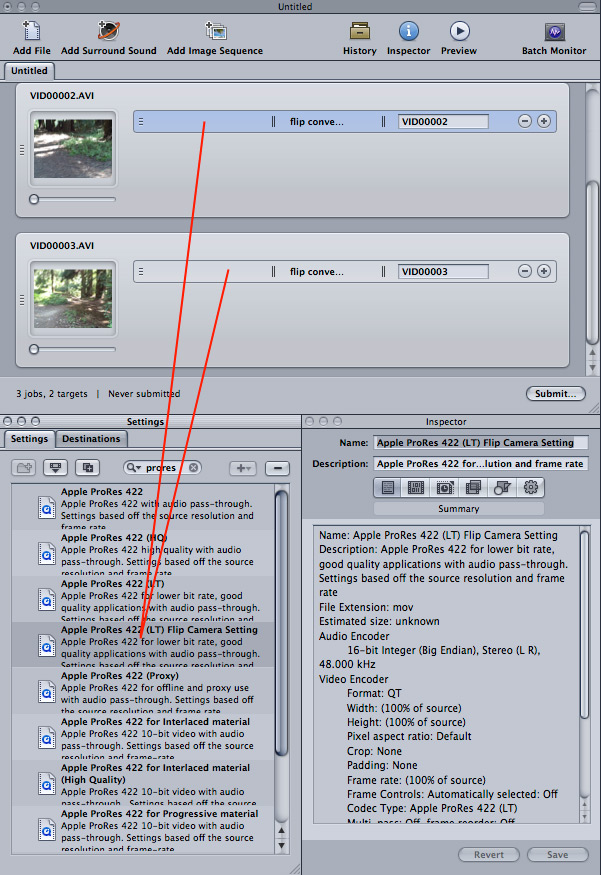 On the lower right-hand side of the main/project window you can now click on the submit button:

. This will pop up another dialog box where you should name this transcode process something practical (in this example I named it flip camera conversion) and click submit again to begin transcoding the clips:


Note: depending on the amount of footage you have, conversion times can be very long.
Now to begin editing within Final Cut Pro, add the files to your project bin using File > Import > Files … :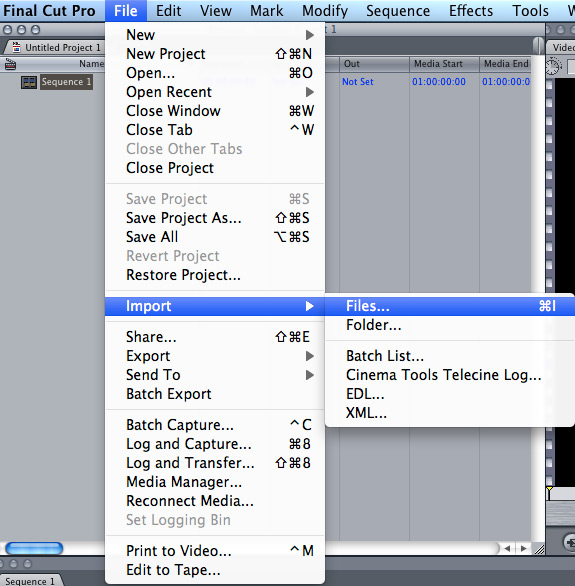 With the files now in your bin, create a new sequence and drag one of the clip into the timeline. This will generate the auto conform to match sequence dialog which you will want to click "Yes" on. This will match your sequence settings to the footage which you just transcoded: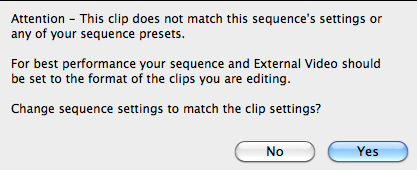 Alternately you can right-click/control-click on the Sequence file in your bin and choose "Settings", this will bring up a new dialog where you can adjust the sequence settings to match the transcoded clips. The settings should match this image: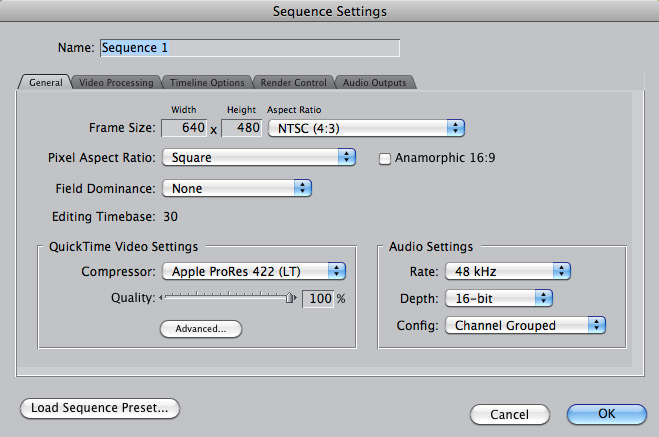 One More Note: If you are combining this flip camera footage with other camera footage (such as our HD Panasonic or Sony cameras) it is best to normalize (transcode) all of your footage to and edit in one common codec (such as Apple's ProRes codec). Since the Flip Camera and Flip Mino cameras record in a resolution of 640×480 you will likely be mixing this lower resolution footage with HD. In this case, It is a good idea to match frame rates, and resolution, if necessary. If you wish to preserve your HD footage as true HD in your sequence, it would make sense to use Compressor video scale settings (or the Motion control settings in Final Cut Pro) to upscale the 640×480 footage to match the timeline as best as possible. This will allow you to preserve your HD footage, while incorporating lower resolution footage. The advantage of upscaling the footage through Compressor rather than the Motion Controls in Final Cut is that using the Motion Controls will require Final Cut to render whenever you change frame size, which can be rather time consuming.
If you have further questions about the proper workflow for this process please contact the IT support in the F&DM Operations Staff by emailing fdmoperations@ucsc.edu
For additional information on converting frame rates in Compressor refer to Ken Stone's extensive article on this topic here:
http://www.kenstone.net/fcp_homepage/converting_frame_rates_compressor.html