Best Practices When Editing In Final Cut Pro X
We have found there to be three primary workflow issues students will run into when editing in Final Cut Pro X. This article is to help address these issues by encouraging proper workflow:
Best Practice #1 – Normalize (transcode) all found footage / Digital SLR footage / personal camera footage to use the Apple ProRes codec:
Final Cut Pro X can be very misleading because it will allow you to import H.264 and other "delivery codec" files, and they will appear to be compatible, but further into your edit they can cause project and event library corruption.
When you import media into Final Cut Pro X it allows you to check an "optimize" box which is supposed to transcode it to ProRes (the proper codec), but we have found it does not work with 100% reliability. For this reason, we recommending using the program Compressor on any footage which was not shot on our department cameras. We have a detailed step by step workflow posted here to address this issue. Please follow it closely prior to editing to prepare your footage correctly:
http://slugfilm.ucsc.edu/production_support/?page_id=4380
Best Practice #2 – Normalize your audio sample rates when using music/external audio files.
.MP3 and .M4a, and audio recorded on field recorders, must be converted to 48kHz AIFF or WAV files prior to importing them into Final Cut Pro X. This can be done easily in either Soundtrack Pro or Adobe Audition. Simply open the audio file in either program (Soundtrack Pro or Adobe Audition) and use the settings below to re-save the file (File -> Save As) using the correct sample rate:
Soundtrack Pro: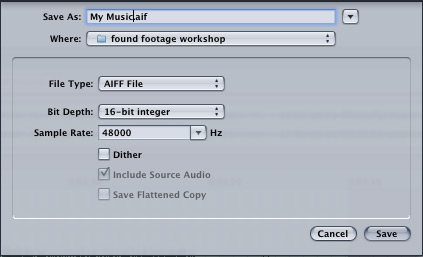 Adobe Audition: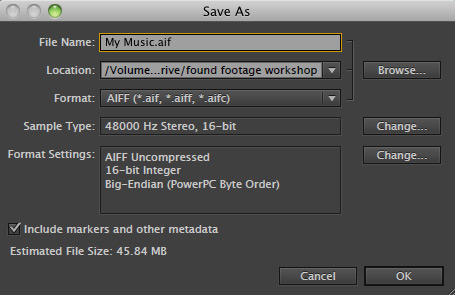 Once you have saved the file with in this new sample rate you can import it into Final Cut Pro X using the standard method (File -> Import -> Files).
Best Practice #3 – When importing media from camcorders budget your time and make sure the background tasks are finished processing:
After you have followed one of our camera workflows and are importing new footage Final Cut Pro X be sure to let the "Background Tasks" finish before starting your edit or quitting the application. To view the status of these tasks navigate to the Window menu, and choose "Background Tasks":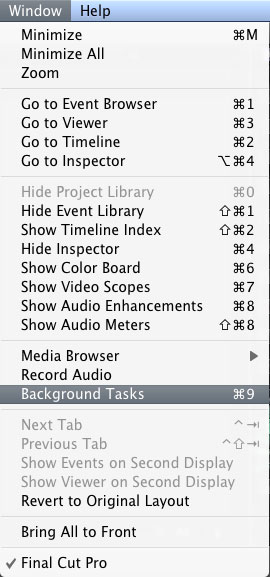 Next you will see a window of the background tasks being performed. This will give you a sense of how much time is left for these background tasks to complete: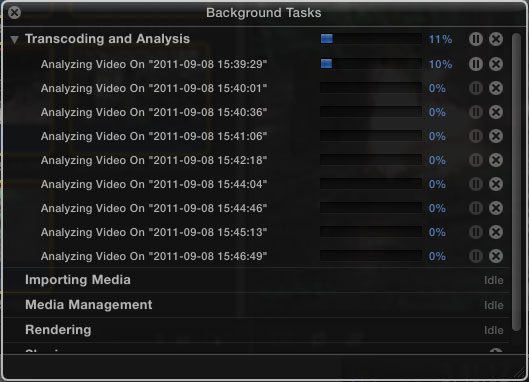 If you fail to let these background tasks complete, your footage will not transcode to the proper format, and can lead to many issues down the road for rendering and exporting your projects.
Once these background tasks are complete you should be able to quit Final Cut Pro X without issue.