Formatting External Hard Drives
These instructions are intended for the formatting of new hard drives. If you choose to format a drive that already has files on it, you will need to copy your files first to another location – as reformatting completely wipes the drive clean. Film & Digital Media can not be responsible for any lost or deleted files due to failure to follow instructions – please proceed with care.
When working with video on a Macintosh, it is recommended that you reformat your new hard drive before using it. If the drive is labeled as set up to work with both Mac and PC platforms, you will need to reformat to Mac format only. If you wish to continue working with the drive on your PC – you can purchase a utility called http://www.macdrive.com/ for your PC which will allow you to read files off your Mac formatted external drive.
To format your new drive:
1. Plug in the firewire cable to the computer and external drive. Plug in the power adapter and turn the drive on. You should see an icon for the drive appear on the desktop.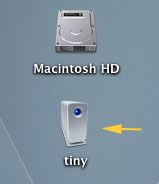 2. In the "Applications" folder, go to "Utilities > Disk Utility" and double click to start it up.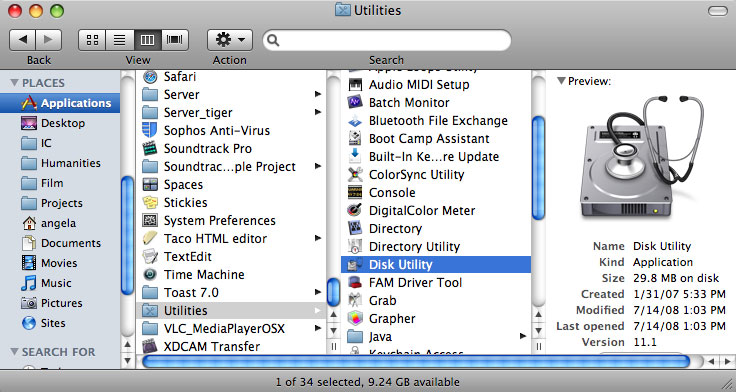 3a. In Disk Utility, select the icon for your external drive in the left column (note in this example it is the La Cie drive not "Tiny" which is a partition, or sub-component, of the La Cie drive).
3b. Click on the "Erase" tab and in the format dropdown select "Mac OS Extended Journaled." If the drive was formatted to be for both Mac and PC, it will read MS-DOS and or FAT32 before you reset this.
3c. Click on the "Erase" button. The interface will grey out some areas, but then will reset to dark once reformatting is complete. It only takes a few second for the drive to reformat.

4. Quit out of disk utility – you're ready to use your Mac format external hard drive.